Maker Of Fireball Is Being Sued Because Their Mini Bottles Don't Contain Actual Whiskey
Whiskey Riff01/25/2023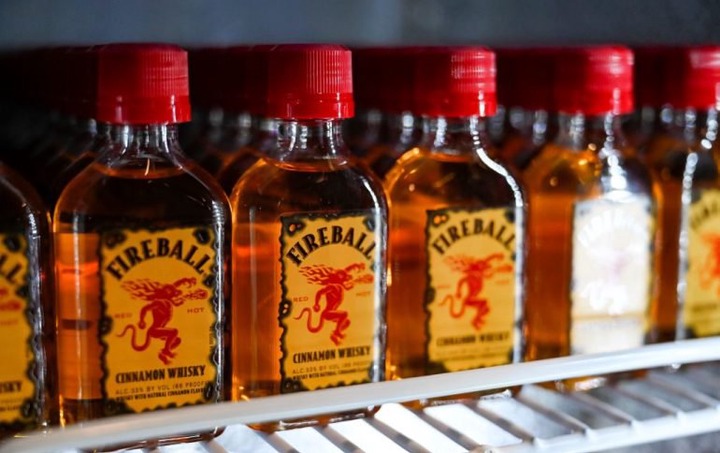 Oh, so Fireball is garbage? Shocker…
I mean, the headache you get from a night of drinking Fireball should be enough to clue you in that there is some shit underneath that red cap.
A class-action lawsuit has been filed in the state of Illinois against Sazerac, the parent company of the popular cinnamon-flavored Fireball Whisky, due to the fact that the mini-bottles don't have any… umm… whiskey?
So Fireball isn't actually whiskey? Well, not exactly…
As it turns out, the full-size bottles are truly a cinnamon-flavored whiskey, however to meet the mini-bottle demand (and some legal maneuverings around where you sell liquor in different states), Fireball has created a malt-beverage with cinnamon and whiskey flavors.
The bottle even says "Fireball Cinnamon," whereas the full size bottle say "Fireball Cinnamon Whisky" on them.
But according to NBC Chicago, one resident still calls it misleading:
"When viewed together with the Fireball distilled spirit brand name, the label misleads consumers into believing it is or contains distilled spirits. As a result of the false and misleading representations, the product is sold at a premium price, $0.99 for 50 mL."
While I admit that I had no idea that the mini bottles were malt liquor, it does say right on the bottle what is inside.
Fireball's FAQ page on their website offers up the distinction as follows:
"Over the years, we have received feedback from consumers wanting to purchase Fireball in a wider variety of convenient shopping locations, including stores that can only sell beer, malt beverages and wine products.
In order to meet this demand, we developed a great tasting malt beverage and an excellent wine-based product under the Fireball Cinnamon brand name. Both are made using our proprietary recipe, capturing the essence of the Fireball taste experience consumers love.
We can now offer Fireball in approximately 170,000 stores in the U.S. that can only sell beer, malt beverages and wine products, but not whisky."
The lawsuit also seeks class-action status for folks across the state of Illinois, as well as North Dakota, Wyoming, Idaho, Alaska, Iowa, Mississippi, Arkansas, Kansas, Arizona, South Carolina and Utah, where Fireball Cinnamon has been sold.
Fake country singers singing about fake whiskey… who would've thought?